The controversy over the engraved Bhagavad Gita near the statue of late President APJ Abdul Kalam, elevated further when a copy of Quran & Bible were placed by the scientist's family next to Gita in protest.
"The authorities removed the Bible and the Quran at the site. We are also looking at the complaint filed with us," Superintendent Police Om Prakash Meena told AFP.
Authorities have removed a copy of the Holy Quran and the Bible from near the statue after receiving a complaint by a Hindu outfit 'Hindu Makkal Katchi', officials said Tuesday. K Prabhakaran, leader of Hindu Makkal Katchi, had filed a complaint saying that both holy books be removed as no permission was taken to place them near the statue.
[ads2]
"I respect all these books. But keeping them (in the memorial) without permission is wrong. Steps should be taken to see that such things are not done again," he told reporters.
Meanwhile, Kalam's relatives Sheik Dawood and Salim told PTI earlier on Sunday that "An unnecessary controversy was raised by some people. DRDO officials worked tirelessly for the memorial construction and had not sculpted the Bhagavad Gita near the statue with any (ill) intention. Now we have left two books – Quran and Bible near the statue".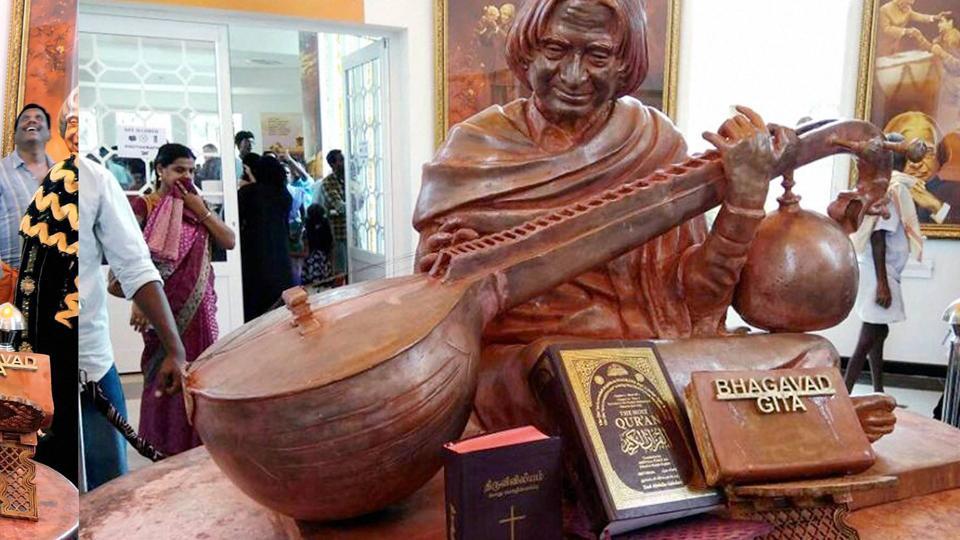 Further, they said that they will soon place a copy of Tamil treatise 'Thirukkural' as Kalam was a leader to all Indians and political parties should avoid doing politics.
[ads2]
Sculpted 'Bhagvad Gita' was placed before PM Modi visit:
Earlier before, the sculpted Bhagvad Gita book was placed next to the statue before it was inaugurated by Indian Prime Minister Narendra Modi last week on the second anniversary of Kalam's death.
Vaiko-led MDMK, PMK and others have raised questions on the intention of placing the engraved Bhagavad Gita near the statue. Either it should not be placed or all holy books should also be placed..
IOI Comment: APJ Kalam never wanted to see that political parties be doing politics after him. He would prefer having 'Constitution book' be placed near his statue or nothing should be placed which makes him a man of 'the community' rather than 'of India'.
Bhagvad Gita row: Let's not tarnish the legacy of APJ Abdul Kalam, the People's President #HTOpinion @aasheesh74https://t.co/U2pcOayvyn pic.twitter.com/TCyY5GO6nZ

— Hindustan Times (@htTweets) July 31, 2017
Source & Photo Credit: New18 & Dawn
[ads1]