BJP MLA Sangeet Som comments which came after reports in a section of the media that a booklet brought out by the tourism department of the Uttar Pradesh government to keep out Taj Mahal from its list of major tourist destinations and also added that Mughal emperors Babur, Akbar and Aurangzeb as "traitors" and said their names would be removed from pages of history.
Traitors built the Taj Mahal. It should not get space in history: Sangeet Som, UP MLA pic.twitter.com/iqs7hkLrnG

— News18 (@CNNnews18) October 16, 2017
During the visit to Merut, the legislator from Sardhana, commented that " Shah Jahan built the Taj Mahal in memory of his wife and was imprisoned till the end of his days by his son Aurangzeb and has targeted many Hindus in his kingdom".
[ads2]
About Taj Mahal, Som said, "Many people were pained to see that the Taj Mahal was removed from the list of places (tourist destinations). Is this history that the person who built the Taj Mahal imprisoned his father? Do you call it a history when the one who built the Taj targeted many Hindus in Uttar Pradesh and Hindustan?"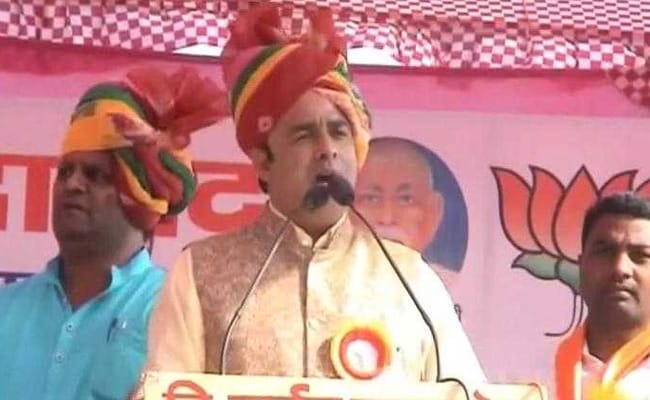 On sunday in gathering at Sisoli village after inaugurating a statue of 8th century king, Anangpal Singh Tomar, he said, "Invaders in India are always glorified but the real great heroes like Maharana Pratap and Shivaji are never looked upon, only small part of them are covered in school & colleges. And he made a promise that.
[ads2]
BJP government would make sure that their valour and sacrifice is properly respected and he also said no one can now stop the construction of Ram Temple in Ayodhya and Krishna Mandir in Mathura.
Following the reports, the State government had issued a press release stating, "Tourism projects worth ₹370 crore are proposed, under which schemes worth ₹156 crore are meant for the Taj Mahal and its surrounding areas in Agra."
Social Media Reaction :
'Taj Mahal a blot, built by traitors,' says BJP lawmaker Sangeet Som.
He must be against marbles, having lost his.

— Ramesh Srivats (@rameshsrivats) October 16, 2017
Sangeet Som's attempt to politicise Taj Mahal is a shoddy attempt to further radicalise an already polarised political narrative.

— Kartikeya Sharma (@kartikeya_1975) October 16, 2017
Taj Mahal is blot on India's culture and Chawla Chicken has no right to sell Mughlai chicken and cream Afgani

— Snow_Crash (@ishaanbhola) October 16, 2017
Taj Mahal was built by 'traitors'? Red fort was also built by same 'traitors'? Will indian PM stop unfurling tricolor from the Red Fort?

— uwall ewall (@uwallewall) October 16, 2017
If Traitors build Taj Mahal, can PM @narendramodi & CM @myogiadityanath tell domestic & foreign tourist not to visit there?#DeshBachao https://t.co/0FujizKjqb

— Sayyad Mohammad Arshi (@sayyad_arshi) October 16, 2017
"Taj Mahal" is an art.

Yeh Religion kyun aagaya bich mein ?

— Thanos Chikna (@Madan_Chikna) October 16, 2017
[ads1]