Nihalani, whose tenure was set to finish next January, will be replaced by well-known lyricist Prasoon Joshi.
Central Board of Film Certification chairperson Pahlaj Nihalani. Credit: PTI
The Indian government has sacked its chief censor Pahlaj Nihalani. His bizarre decisions had outraged the film industry against the Central Board of Film Certification, also known as the Censor Board of India.
Nahalani is to be replaced by Prasoon Joshi, a leading light in both the film and advertising industries. Urbane and approachable, Joshi has numerous script and songwriting credits on films including "Bhaag Milkha Bhaag," "Rang de Basanti," and "Taare Zameen Par." He is simultaneously CEO of McCann World group India, and Asia Pacific chairman of global marketing firm McCann Erickson.
[ads2]
In his two and a half-year tenure at the Censor Board Nihalani's decisions ranged between the conservative, the politically-motivated and the simply baffling. He ordered cuts to the love scenes in James Bond film "Spectre," the banning of "Lipstick under My Burkha" on the grounds that the film about female sexuality was "lady-oriented" and might offend Muslims. The decisions were reversed on appeal to the courts.
With the film "Udta Punjb" about the state's drug problems, Nahalani ordered 89 cuts in order to remove references to drugs, elections and Punjab. Again, a court reversed all but one edit. In another film, he ordered the words "cow" and "Hindu India" to be removed.
His most recent controversy came with the Shah Rukh Khan-starring "Jab Harry Met Sejal." Nahalani objected to the word "intercourse" in a trailer, but said it could be restored if there were a public poll. He said that the word could stay if 100,000 people voted to keep it in. When that hurdle was surpassed, he added a few provisos. The votes have to be from married people aged 36 and above, as they are likely to have 12-year-old children.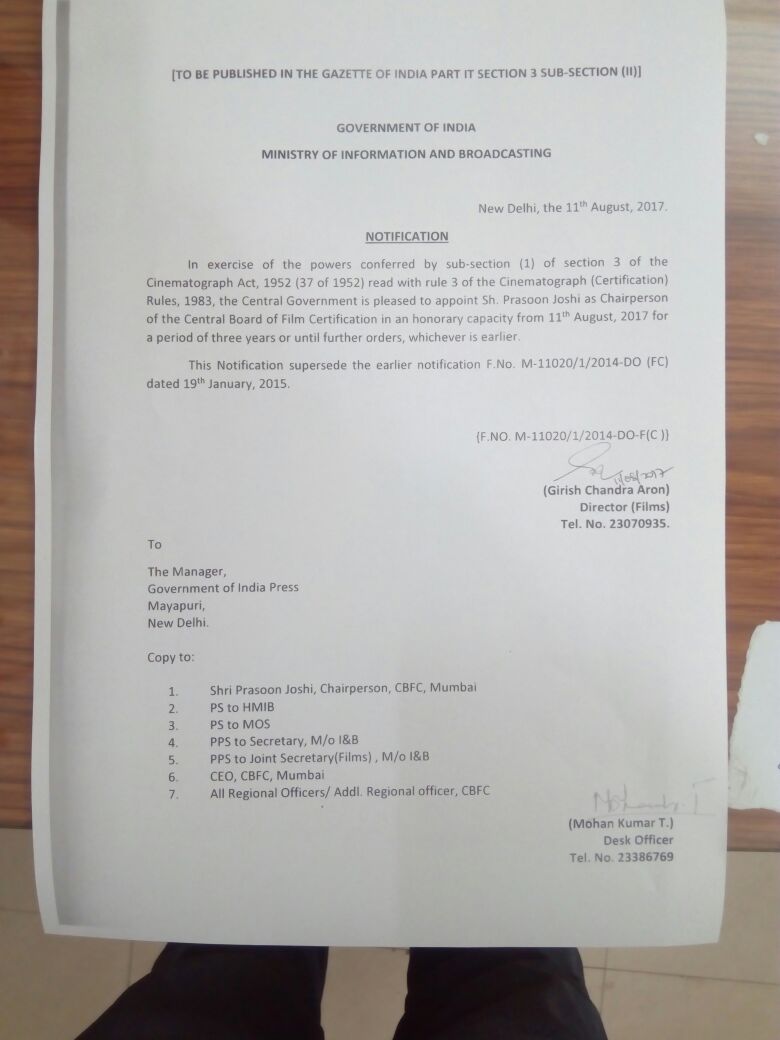 What Nihalani said
Nihalani spoke to Economic Times on friday, alleged some people in government were "confusing people that the role of CBFC was only certification not censorship."
The CBFC will always be known as the 'censor board' not certification board but some people in government have forgotten that. They created some confusion that CBFC shouldn't cut, only certify. That is not the way it works. Even the tribunal cuts. Also some producers show different versions of movies to the CBFC and to the tribunal only to humiliate me," he claimed.
[ads2]
Nihalani said he was in favour of a rating system and according to him, rules of censorship were firmly required in the digital and TV world too. "Look at how TV is showing paedophilia and child abuse. Should the government allow that in a society like ours?"
"I have done my duty honestly. I came to know from the media about my appointment and about my sacking too," he claimed and added under his tenure, CBFC had become "free of corruption, middle men and agents."
He said that he was not angry with the government. "The PM is especially is doing an excellent job. I will always admire him. Ninety eight per cent of the producers were happy with me but for two percent of producers, today is Diwali. They must be finally rejoicing that everything wrong that I was fighting against might be back."
[ads1]