The Pune city police have filed a criminal case against newly-elected Gujarat MLA Jignesh Mevani and Jawaharlal Nehru University (JNU) student leader Umar Khalid for allegedly promoting enmity between two groups by delivering allegedly provocative speeches at the 'Elgaar Parishad' held at Shaniwarwada Fort in the city on December 31.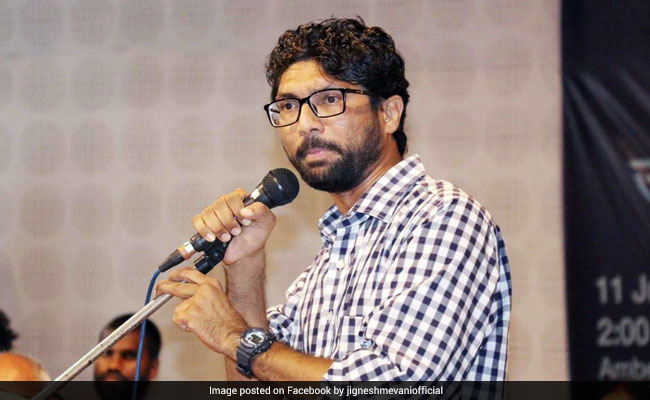 The 'All India Students' Summit' event which was scheduled at the Mithibai College in Vile Parle for Thursday morning was also cancelled by the police .High voltage drama followed the event cancellation and students took to the streets and launched a massive protest outside the college.
[ads2]
A case was lodged based on a complaint filed at the Deccan Gymkhana police station on January 2 by two youths Akshay Bikkad (22) and Anand Dhond (25), who disclaimed affiliation with any social outfit or political organisation.FIR was registered against Mr. Mevani and Mr. Khalid under sections 153 (a) [Promoting enmity between different groups on ground of religion, race etc], 505 (making statements conducive to public mischief, creating or promoting enmity, hatred or ill will between classes) and 117 (Abetting commission of offence by the public or by more than ten persons) of the Indian Penal Code (IPC) at the Vishrambaug Wada police station late on Wednesday night.According to the complaint, Mevani at the Pune event said, "If we want to win over this new Peshwai, the battle of Bhima Koregaon needs to be taken ahead." The Dalit leader said it was right that people fighting the battle needed to be in assemblies and Parliament, but if one had to eradicate casteism, it would happen only by taking to the streets.
Mr. Mevani, Mr. Khalid, Dalit leader Prakash Ambedkar and Radhika Vemula were among the speakers at the Parishad, held to commemorate the bicentenary of the Bhima-Koregaon battle in which 500 soldiers of the Mahar community fought alongside the English to defeat the forces of Peshwa Bajirao II.The Peshwas were Brahmins, and the victory is seen as a symbol of Dalit assertiveness .
[ads1]