New Delhi : On very first anniversary of BJP Government's demonetisation, Union Minister Ravi Shankar Prasad claimed that Prostitution has nosedived after demonetisation. He also claimed that the incidents of stone-pelting have also come down in Jammu and Kashmir following demonetisation.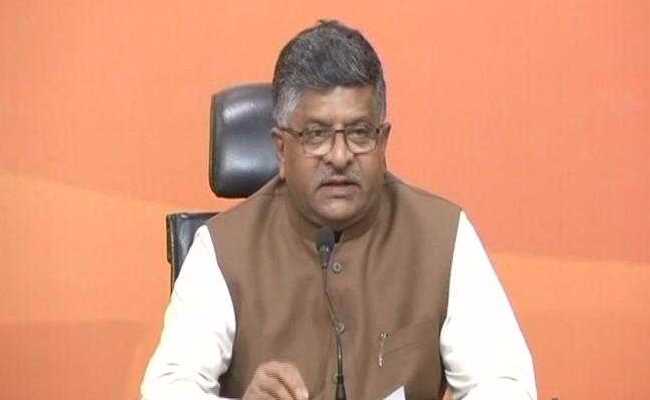 "Flesh trade has nosedived in India," the law minister told reporters. "Trafficking of women and girls has gone down considerably. A huge amount of cash used to flow to Nepal and Bangladesh…Notes of Rs 500 and Rs 1,000 were used to make payments in the flesh trade, which has now come down."
Mr Prasad claimed. "One year of demonetisation has proved that the decision was in the national interest."
[ads2]
The Opposition will mark the anniversary as a "Black Day" in protest against the "ill-conceived and hasty decision". "We were to celebrate honesty, but the Congress wants to observe it as black day. Why is the Congress irritated with honesty?" he added.
The Bharatiya Janata Party decided to mark the one-year anniversary of demonetisation as "Anti-Black Money Day" on Wednesday.Finance Minister Arun Jaitley defended the Centre's demonetisation drive as a "watershed moment in the history of the Indian economy".
While former Prime Minister Manmohan Singh reiterated that demonetisation was an "organised loot and a legalised plunder". "November 8 was a black day for our economy and, indeed, our democracy," he said at an event in Ahmedabad.
"Tomorrow, we mark one year since the disastrous policy was thrust on the people of our country." he added.
Many are wondering what data Prasad used to base his claims on, and if curbing flesh trade had been a planned objective of demonetisation all along, or is now being cited as a corollary benefit only to defend the unplanned decision of noteban.
[ads2]
Demonetisation has been constantly attacked by the Opposition and economic experts as a move that dealt a body blow to the Indian economy, with the poor and marginalised as the worst victims.
BJP has been changing goalposts about what the demonetisation was supposed to achieve.
Initially it was touted as a "surgical strike on black money". In subsequent months demonetisation changed into an exercise that was to usher India into a new age of cashless, digital, and hence scrutinised, transactions.
Congress taunted Mr Prasad after his claims
Although the minister claims that he has data but has not gone public with the data .Recent statistics on flesh trade are not available in the public domain. The National Crime Records Bureau is the government body officially tasked with collating data on crimes in the country. The most recent data the NCRB has released has been for the year 2015.
The opposition and public has called out the minister's claim .
"If this is indeed true and @rsprasad actually said it, could the Hon'ble Law Minister please enlighten us which government department tracks prostitutes & keeps a tab on their earnings. The nation wants to know," tweeted the Congress' Manish Tewari, a former union minister today.
If this is indeed true and @rsprasad actually said it could the Hon'ble Law Minister please enlighten us which government department tracks prostitutes & keeps a tab on their earnings. The nation wants to know 🤡😆🎯❤️❣️ https://t.co/ViuuwxjcUt

— Manish Tewari (@ManishTewari) November 8, 2017
Commentator Suhel Seth called it "shocking," also tweeting, "I am just amazed and horrified that @rsprasad's measure of  Demonetisation's success is a decline in prostitution? Do these folks even know what they say and what they tweet?@narendramodi these comments don't serve the Government well."
With PTI inputs
[ads1]