Former PM Manmohan Singh turned 85 today, the world renowned Economist, who is credited for reshaping India's economic reforms in 90s was greeted by politicians cutting across party lines on his birthday.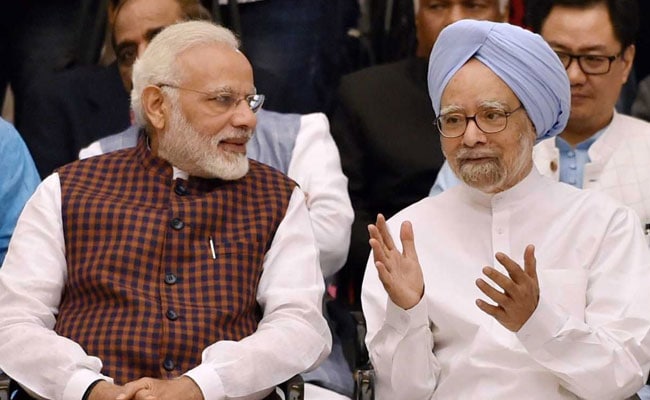 Prime Minister Narendra Modi on Tuesday wished his predecessor Manmohan Singh on his birthday praying for his long life.
"Warm birthday wishes to our former Prime Minister Manmohan Singh. May he lead a long life filled with good health," Modi said in a tweet.
Warm birthday wishes to our former Prime Minister, Dr. Manmohan Singh. May he lead a long life filled with good health.

— Narendra Modi (@narendramodi) September 26, 2017
The Congress party, from its official Twitter handle, said, "Wishing our former Prime Minister Dr. Manmohan Singh a very happy birthday. May he continue to inspire us for many years to come!"
Dr. Manmohan Singh always listens & seldom speaks, only sharing wisdom when he does.Wishing him many more birthdays!https://t.co/WORdmYZgUo pic.twitter.com/Ynk7AjgV18

— Congress (@INCIndia) September 26, 2017
[ads2]
Karnataka Chief Minister Siddaramaiah said, "I wish beloved leader & former Prime Minister Dr Manmohan Singh a very Happy Birthday. Look forward to his continued guidance & inspiration."
Singh, 85, was born in Gah in undivided Punjab on this day in 1932. He moved to Amritsar with his family during Partition. He graduated in Economics from Punjab University, later obtained a Masters degree in Economics from Cambridge University, and a D.Phil from University of Oxford. He worked as an expert on economic matter at the UN, the Ministry of Foreign Trade, the Finance Ministry and headed the Planning Commission. He has also taught at the Delhi School of Economy .Singh, who had served as governor of the Reserve Bank between 1982-85, was instrumental in introducing key reforms that helped shape India's economy. The first Sikh Prime Minister of the country was sworn in by then president APJ Abdul Kalam.
The economist, who turned 85 on Tuesday, headed the Congress-led United Progressive Alliance (UPA) government as the 14th Prime Minister and its success probably won him his second term. He demitted the prime minister's office after 10 years, the longest after the Jawaharlal Nehru's 17 years in office, and left a mixed legacy of achievements and setbacks.
Singh is credited with playing a key role in ushering in economic reforms in the 1990s, when India liberalised its economy. A celebrated economist, he entered politics during the peak of the 1991 economic crisis when late prime minister PV Narasimha Rao inducted him into the government as a finance minister. Together they lifted the economy out of the balance of payments crisis and paved the way for economic reforms on which no successive government has looked back.
A technocrat who had occupied various positions, including as the Reserve Bank governor and secretary general of the South-South Commission, he had earned a name for probity and integrity that made him the automatic choice for Sonia Gandhi for the PM's post.
In the first five years the government led by Singh delivered a robust 8.5% GDP growth for most of his tenure and first five years were marked by initiatives such as MNREGA and RTI.The soft spoken PM took a tough stand on India-US civil nuclear deal ,resulting in left withdrawing its support to his government but it survived in the confidence vote with the help of the Samajwadi Party and Bahujan Samaj Party.His second term was tainted by scams and also the party failed to communicate its achievements.
[ads2]
Among the many awards and honours conferred upon Singh in his public career, the most prominent are the Padma Vibhushan (1987); the Jawaharlal Nehru Birth Centenary Award of Indian Science Congress (1995); the Asia Money Award for Finance Minister of the Year (1993 and 1994); the Euro Money Award for Finance Minister of the Year (1993), the Adam Smith Prize of the University of Cambridge (1956); and the Wright's Prize for Distinguished Performance at St. John's College in Cambridge (1955).
He is a recipient of honorary degrees from many universities including the Universities of Cambridge and Oxford.
[ads1]