Ahmedabad: Asia's one of the biggest civil hospital in Ahmedabad, a bizzare tragedy occurred where in neonatal ward, eighteen newborn babies have died in the span of 48 hours. These kids came from various parts of state but there fate followed death. Even though crore of rupees are spent in Gujarat's health centre, having skilled and qualified doctors.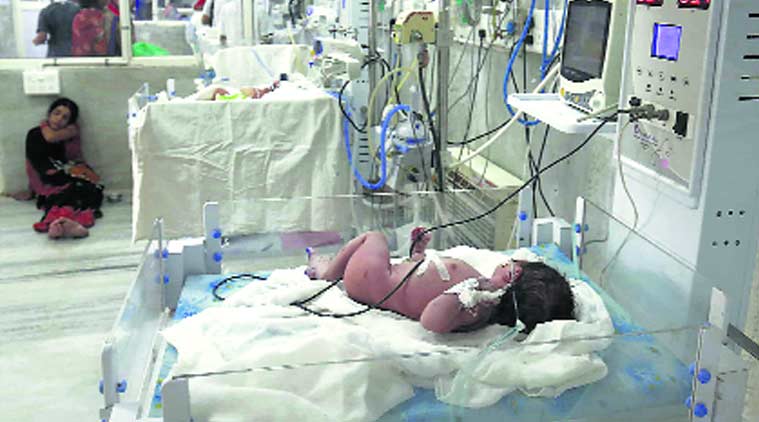 Indian Express reported that Nine infants died within six hours on Saturday – between 6 am and noon. It has also been noted that due to lesser amount of staffs also the incidence occurred.
[ads2]
The hospital superintendent, Dr M.M. Prabhakar, initially denied that the deaths had taken place, but changed his stance and released an official statement once BJP state spokesperson Bharat Pandya intervened, Indian Express reported. "Of the nine deaths in 24 hours, five babies were referred from distant places – Lunawada, Surendranagar, Mansa, Viramgam, Himmatnagar – and were having severe life threatening conditions such as extremely low birth weight (around 1.1 kg), hyaline membrane disease, early onset septicaemia and disseminated intra-vascular coagulation,"
On one hand government saying infant deaths are decreasing but the other side seems to be frightening and even in Uttar Pradesh's hospital the same incidence occurred. The spate of deaths once again brings into focus the controversial 'Gujarat model of development' which has been called out by several economists and activists.
Rupani told the media on Sunday, according to the Indian Express, "We have formed a committee to take steps, if there is any negligence in service that has resulted in the deaths of children. The committee's report will come soon. According to the information I have gathered, no child has died for lack of medicine, lack of treatment or any facility in the hospital. But, since nine children have died in a day (on Saturday), the state government has considered it serious and appointed the inquiry committee. Since last night, we have sent top health officials, the health secretary and health commissioner to the hospital,"
[ads2]
The Congress, looking to target the Bharatiya Janata Party ahead of the state's Assembly election, hit out at the Vijay Rupani-led government following the initial reports of nine babies dying in Ahmedabad.
"Death of children reported in another BJP ruled State #Gujarat. My heart goes out to their parents n family members. May God gv (give) them strength," Congress general secretary in-charge of Gujarat Ashok Gehlot tweeted.
Death of children reported in another BJP ruled State #Gujarat. My heart goes out to their parents n family members.May God gv them strength https://t.co/e94hxtpn9Z

— Ashok Gehlot (@ashokgehlot51) October 28, 2017
Following the tragedy a three-member committee was instituted to probe the deaths. The committee, which comprises of a pediatrician, a gynecologist, and a government official, has been asked to submit a report on the babies' deaths at the earliest.
With PTI inputs
[ads1]