West Bengal: The horrific incident, which took place in Rajasthan's Rajsamand, was filmed and put on social media with a message that anyone involved in any affair love-jihad case will meet a similar fate.
Afrazul Khan (47), who was brutally killed in Rajasthan with that his video was also put on social media and his family members now assertively demands alleging that there is a conspiracy and said "Those who killed him like an animal and showed his pictures to the world should be hanged."
[ads2]
The victim who was hailed from Malda and the man seen as the attacker in the video has been identified as Rajsamand-resident Shambhulal Regar as the killer and Shambhulal even roped in his 14-year-old nephew to film the killing.
Meanwhile Thursday, authorities swiftly came into action after the incident came to light and police arrested Regar and detained his nephew. Rajasthan DGP, O P Galhotra, while speaking to reporters, said: "This is a brutal crime. On first hand it does not look like this is done by a normal human being." Rajasthan Home Ministry confirmed the arrest to CNN-News18.
In Saiyadpur, over 325 kms from Kolkata, Afrazul's relatives have gathered soon after they received a call from the Rajasthan Police for mourning.
Gul Bahar Bibi, speaking to The Indian Express over the phone said, "We want those who killed my husband so brutally and showed it to the world be hanged. I want Insaaf (justice). He was only killed because he was a Muslim. Yesterday, at around 3 pm, we received a call from Rajasthan Police and were told that my husband has been murdered,"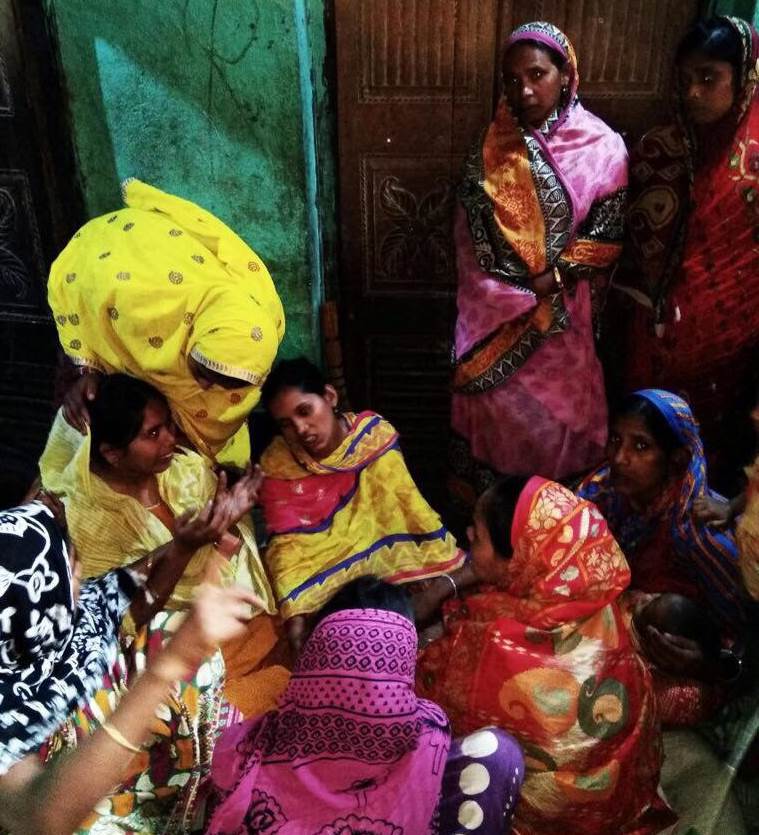 Afrazul's daughter said, "We even spoke to him on Tuesday. He calls us everyday. We do not know what love jihad is. He has grandchildren. They butchered my father like animals before setting him on fire. I want those who did that to suffer in the same manner. I have seen the video and the cries of my helpless father while he was being killed,"
The victim Afrazul was a unskilled labourer working in rajasthan since last 12 years, he returns home after every two months and he doesn't even have a big plot of land to sustain his family. He is the father of 3 daughters and he was coming back to his family for his youngest daughter as she was getting married.
As the news came to the village many of them are in disbelief and said Afrazul was god fearing man and people were waiting for his body to arrive for final rituals.
[ads2]
Afrazul's niece Zeenat Khan, said, "there is a conspiracy and big people are involved. What can a labourer do? The manner in which the crime is highlighted on social media shows that there is a deep conspiracy and big people are involved. We have relatives in Rajasthan who are at the police station now,"
The victim's neighbour Jewel Choudhury said, "I have known him for years. There is no bad record in his name here. He was a gentleman and a god-fearing person," Another neighbour named Ibrahim Sheikh expressed concern about the future of his children. "Now who will run the family. His youngest daughter studies in class ten. He is the only earning member of the family and very poor."
West Bengal CM Mamata Banerjee strongly condemned the brutal murder of Afrazul Khan, she said " We strongly condemn the heinous killing of a labourer from Bengal in Rajasthan. How can people be so inhuman. Sad" on twitter.
We strongly condemn the heinous killing of a labourer from Bengal in Rajasthan. How can people be so inhuman. Sad

— Mamata Banerjee (@MamataOfficial) December 7, 2017
Source : Indian Express
[ads1]