Mumbai: In one of the gruesome tragedy, 27 people died and several dozen injured in a stampede at the Elphinstone railway station today. Eyewitnesses said it was due to four trains arrival at the same time on various platforms made the commuters rush towards their destination but the bridge was crowded as many people were taking shelter from rain, some rumours of bridge collapse began on an overcrowded footbridge has led to the stampede.
[ads2]
Though this incident is a great tragedy, however there are signs of negligence from the railway authorities during former Railway Minister Suresh Prabhu as well as the present.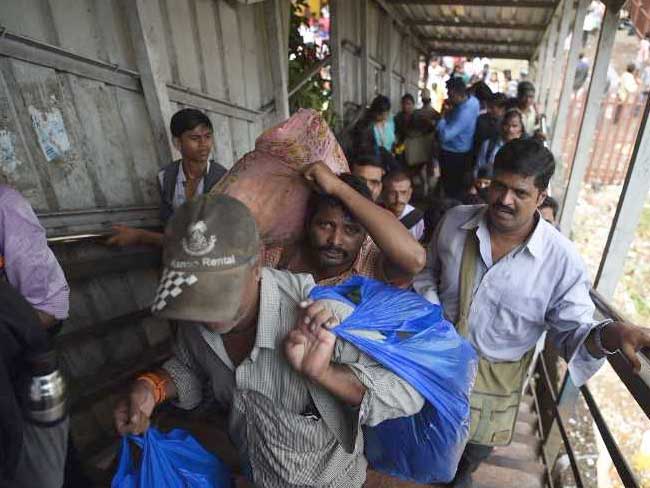 There were several warnings to alert the authorities, but seems it was either ignored or neglected. Check the below tweet which gave 4 warnings of stampede.
In a tweet which dates back to 2016 now going viral, a Twitter users K K Chandan, tagged PM Modi and Prabhu and wrote, "@sureshpprabhu @narendramodi Is central mumbai station 'Parel' awaiting a stampede?" with a photo of the over-crowded bridge at the station which proves the pathetic condition.
@sureshpprabhu @narendramodi Is central mumbai station 'Parel' awaiting a stampede? pic.twitter.com/hMhUm4wgJ3

— Chandan KK (@CKSquare) July 28, 2016
And this comes just yesterday when a railway commuter Santosh Andhale twitted to Piyush Goyal and Railway  authorities.
@PiyushGoyal sir pls do something related to this Parel bridge in Mumbai. Thanks @WesternRly pic.twitter.com/2FNJbDMnvV

— Santosh Andhale (@Santosh_Andhale) September 27, 2017
Since the incident, people are showing outrage against government's poor and irresponsible governance.
Changing names from #Elphinstone Station to #PrabhadeviStation gets votes but doesn't save lives. Building better bridges does @PiyushGoyal pic.twitter.com/OBgyCLl0hN

— Mohd Mairaj (@Mairajaimim) September 29, 2017
1/Due to heavy rains, unfortunate incident of stampede like situation on NORTH FOOT OVER BRIDGE at Elphinstone Road at about 10.30 am pic.twitter.com/XXQc5U3ALS

— Ministry of Railways (@RailMinIndia) September 29, 2017
"According to witnesses, four Trains came at the same time and due to the rain, A few commuters slipped, which led to the tragedy. There were more than the usual people on the bridge at the time, waiting for the rain to end."
Railway spokesperson Anil Saxena told NDTV.
15 dead, 30 injured in stampede outside Mumbai's #Elphinstone Station near Parel https://t.co/FFLlFhXA5X

Updates: https://t.co/ySQrp065mM pic.twitter.com/nDMxQChe4B

— NDTV (@ndtv) September 29, 2017
It's also alleged that a short-circuit with a loud sound near the bridge was the reason for people to panic and they started running around.
The horrifying episode has created a social uproar. People had been complaining about the pathetic conditions of the Elphinstone Road since ages.
People were complaining about it for so long but only dead bodies can make government do its job. That too post disaster! pic.twitter.com/JAwVENVJVN

— V (@stfu_veer) September 29, 2017
This one is from July, last year.
@WesternRly urgent action required. Railway bridge at Elphinstone Station, Mumbai is damaged. @sureshpprabhu pic.twitter.com/2v2nZhm3g4

— Shubhankar Jadhav (@JShubhankar) July 13, 2016
This is what pre-rush in Parel looks like. And, this is Feb's tweet.
Pre-rush hour Parel station. The only staircase which people use to exit and enter the station. A major accident is waiting to happen. pic.twitter.com/FWMrTboh4a

— MANJUL (@MANJULtoons) February 1, 2017
This incident in which several people lost their lives could have been averted but it seems that it was waiting to happen, and has happened due to clear negligence.
[ads2]
So many warnings but the authorities paid no attention at all. It was due to old and poor infrastructure that so many lives were claimed. Shiv Sena is asking for Piyush Goyal's resignation and filed an FIR against railway authorities for their negligence and irresponsibility.
People report about poor traffic, poor infrastructure, corruption and other related matters through Twitter and WhatsApp to government department. Although many of these complaints are acknowledged, many are also ignored. At the same time, there is a feeling that even if the complaints are acknowledged, nothing on the ground changes.
With PTI inputs
[ads1]