In a rather shocking and shameful incident Shambu Lal Raigar, who hacked Muslim labourer to death 'honoured' with tableau on Ram Navami in Rajasthan .
The tableau shows Shambu Lal Raigar seating like a king on a throne holding a pickaxe which resembles the weapon he had used to murder the Muslim labourer, reported Aaj Tak.Raigar had killed Afrazul while, in a video, ranting against "love jihad", a term used by sections of Hindu activists to describe marriages between Hindu women and Muslim men.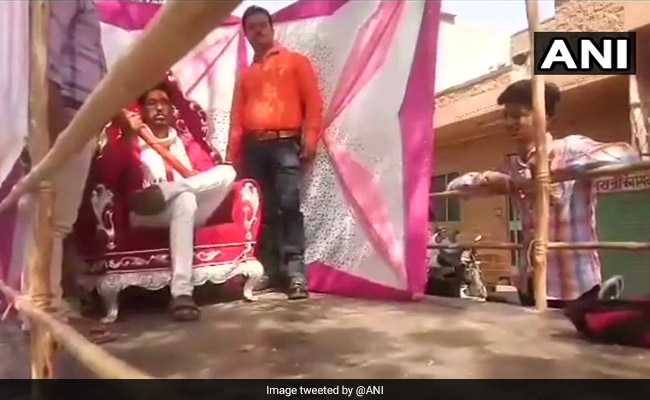 Written on it was "Hindu brothers wake up, save your sister or daughter." On the other side was a picture of the man who set up the tableau – Hari Singh Rathod. Rathod is the co-treasurer of Shiv Sena in Jodhpur and is reportedly associated with the RSS.He claimed they were trying to spread awareness about 'love jihad'.and that Muslim boys in Jodhpur were 'marrying one Hindu girl after another and exploiting them to convert their religion.He even justified Shambulal's act stating that "Today, such cases are being seen everywhere. There are so many cases in our neighbourhood where Hindu girls are being misled and being driven away from home. In such a situation, what Shambhu did was absolutely fine. he will definitely get justice."
In the latest video from jail Raigar said he was "infuriated" over a "jihadist comment", targeting Hindu women, and that was why he had killed Afrazul.This has raised questions on how he has access to mobile phone in the jail .According to a preliminary investigation, Raigar could have used the cell phone of another inmate, but the jail authorities have failed to recover a mobile from the said inmate.Jail Superintendent Vikram Singh said they were investigating the matter and had also reviewed the security of Raigar.Singh said the presence of mobile phones inside the jail was a "serious matter" and added that the prison authorities were trying to find out how the phones were making their way into the prison.
The Raigar tableau a heinous and shameful where a murderer is celeberated openly and needs to be condemned strongly before it becomes a norm .