Karnataka: A three day session in Udupi of Hindu religious leaders on a Dharam Sansad organised by the VHP did not pass any resolution setting a deadline for the building Ram janambhumi but they have insisting that only a temple would be constructed at the Babri Masjid demolished site in Ayodhya.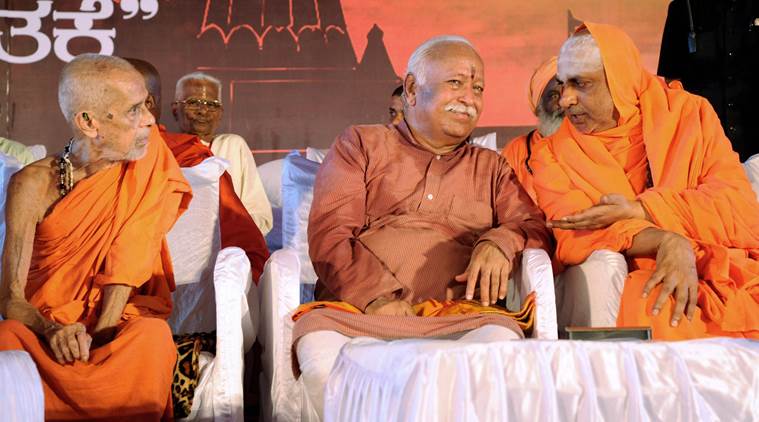 According to Indian Express reports, VHP working president Praveen Togadia told a public gathering on Sunday, at the end of the three-day conclave said that, "Only a temple will be built at the site and not a mosque".
[ads2]
VHP organising secretary for the Karnataka region Gopal said "the construction of the Ram temple would begin by December next year, while a section of the media quoted joint secretary Surendra Kumar Jain as saying that the construction would start on October 18, 2018."
For success of efforts to build the temple at Ayodhya, the Dharam Sansad called upon all Hindus to conduct prayers between March 18 and March 31, 2018 but they said they wont be passing any resolution or dates.
The call for a stringent central law to protect the cow by Dharma Sansad which was presented by Akhileshwar Das Maharaj from Gujarat and was seconded by Sadhguru Dileep Singh of Punjab. He also said that for such cow slaughter laws there should also be death penalties and also for those who transport meat, and herein the Several religious leaders hoped for an order by Prime Minister Modi banning cow slaughter overnight, like in the case of demonetisation.
Vishweshwara Thirtha, the head of the Pejawer Mutt who hosted the event said that, "The main decision was improving social cohesion, and that there should be no lower and higher people," and everyone has open access to temples, graveyards, wells and water sources for all communities, and ending caste-based divisions.
In order to avail benefits for Hindu minority like dalits, Pejawer seer proposed a resolution for them by Dharma Sansad and along with a resolution calling for an end to government control of temples, proposed by Gangadhar Saraswathi Maharaj of Karnataka and seconded by Sangram Maharaj of Telangana.
In the closing speech at the public meeting, Togadia said the VHP would be seeking a ban on the film Padmavati ans said "It is fashionable to insult Hindus. We will not tolerate it and we want this movie banned and we want to tell Sanjay Leela Bhansali, who is talking about freedom of expression, to make films about characters belonging to other religions."
[ads2]
At the same time in the gathering VHP Secretary Gopal termed 'love jihad' a serious threat to Hindus. "Muslims must stop love jihad, otherwise we will send our youths from the Bajrang Dal to attract Muslim girls. We are not opposed to love but our girls think Shah Rukh and Shirish are the same or Salman and Sunil are the same, but they don't know that Hindu boys marry only once and the others will marry several times,"
During the discussion over the cow, Amrit Maharaj, a seer from Jodhpur, said, "The cow is the mother of the world, but it is sad that in the country where it should be protected, it is being slaughtered. Cow slaughter is happening openly. Through the Dharam Sansad, we want to request for a law where even transporters are given the death penalty, to create fear." Adding to that the seer Narayana Maharaj Shinde, "The cow is not just an animal, a cow is a cow. Those who sell cows are the first culprits and those who slaughter it are the second culprits. Gau rakshaks cannot be goondas because they are willing to do anything to protect the cows."
A seer from Tamil Nadu, Mannar Guruji Ananth, said "politicians elected with the support of the Hindu community must not criticise gau rakshaks and cow protection is like protection of the country but gau rakshaks have no protection… The Prime Minister also called for a stop to violence by gau rakshaks."
Rama Devanand of Brindavan added, "We are proud that the PM and President are Hindus, but we should not then have to fight for the temple and cow protection. We made them our leaders and we are hurt when they criticise gau rakshaks. We should condemn such leaders."
The host of the Dharma Sansad, Vishweshwara Thirtha, who is the head of the Pejawar Mutt in Udupi, bought a resolution for hindu minorty that, "the benefits given to minorities should also be given to dharmic minorities. This is not anti-Dalit or anti-backwards, but this will help Dalits. We are not asking for withdrawal of benefits to minorities but an extension of the same to Dalit institutions. This is true secularism,"
[ads1]