At the inauguration of the 11th State Meet of the Democratic Youth Federation of India, actor Prakash Raj expressed his disappointment with Prime Minister Narendra Modi for not uttering a word about journalist Gauri Lankesh's murder, and lashed out at the right wing supporters celebrating the murder on various social media platforms.He said
"Gauri's killers may not have been caught yet, but what is more distressing is those who celebrated her death. We may not be able to see Gauri's killers, but we can see those who have spewed vitriol… People, who our Prime Minister follows, are also among them. We have a Prime Minister who turns a blind eye to this."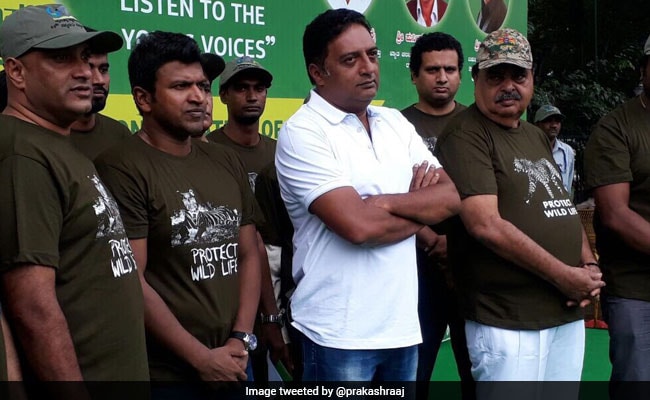 "People who our Prime Minister follows are also among them. We have a Prime Minister who shuts his eyes to this."
[ads2]
He also added "am a renowned actor, do you (Modi) think I will not be able to detect when you are acting. At least show me some respect, considering the fact that I am an actor and I will be able to tell what is the truth and what is acting"
Watch his video speech
Actor Prakash Raj takes dig at PM Modi, Yogi Adityanath, calls them a better actor. #ITVideo.
More video: https://t.co/NounxnP7mg pic.twitter.com/lFvYC9aSwl

— India Today (@IndiaToday) October 3, 2017
The National Award winning actor does not seem to be pleased with the UP Chief Minister either.
"In UP, we don't know whether he's a Chief Minister or the poojari of a temple. You know, I have five national awards. I think I should give them to him."
A multi-lingual actor and producer with a fan base across south India, Prakash Raj was a close friend of journalist Gauri Lankesh for over three decades. "Gauri's father, Mr Lankesh, was our mentor, our teacher. We have been his students, and I knew Gauri for the last 35 years," he told soon after Gauri's death .
Prakash Raj has won 5 National Awards for films across industries in his long career. These are Best Supporting Actor for Iruvar (1997, Tamil), Special Jury Award for Anthapuram (1999,Telugu), Special Jury Award for various movies (2003, multiple languages), Best Actor for Kanchivaram (2007, Tamil), and Best Film for Puttakkana Highway (2010, Kannada).
Prakash had  also said that though there were many vocal voices in the past such as Lankesh, DR Nagaraj and UR Ananthamurthy, intolerance for such voices had grown more recently. "I am really wondering where are we going towards?" Prakash asked.
[ads2]
"Who has done it is supposed to be left to the police and the CB/CID, whoever is going to do it. But then we know, I think we as a country, as citizens, we have not decided that who should rule us, who are the policy makers, and who has let this sort of an ambience sneak into our lives," the actor went on to say.
"That is exactly what is terrifying. That it is happening continuously. And whoever the cowards are, they are unabashedly trying to challenge the system, challenge our conscience and say, 'We can silence voices.' Whoever is reasoning, and the whole Freedom of Expression, having a right to express, is trying to be questioned," he said.
[ads1]