The village panchayat sentenced two accused to pay Rs 2500 each, take a holy dip in Pushkar and arrange a tractor-load of fodder for cows and threatened the victim's son to avoid police complaint.
Rajasthan: In a bizarre incident, a Dalit woman was falsely accused of witchcraft got stripped, beaten and made to eat faeces in a village in Rajasthan's Ajmer district. She was then dragged by her hair and forced to lie on a bed of burning coals. She was then shoved those burning coals in her eyes, blinding her.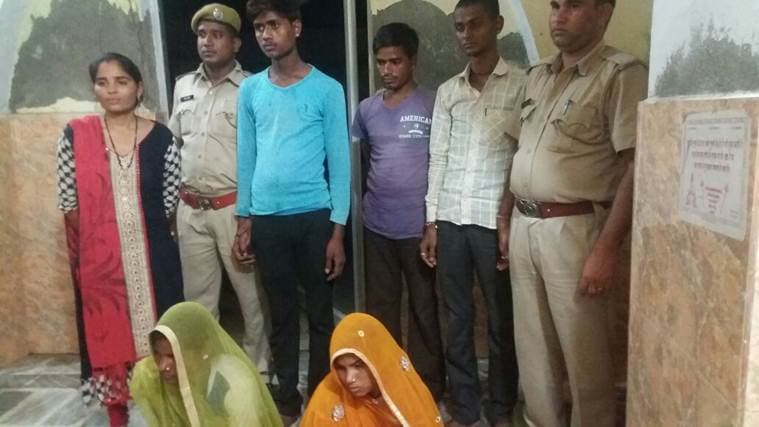 40 years old Kanya Devi, a widow, died a day after she was assaulted by two of her relatives and a neighbour on August 2, reports Indian Express. The incident took place at Kadera village near Kekri in Ajmer, where 200 Dalits family resides. According to the police, a village caste panchayat had absolved the perpetrators by asking them to take a holy dip in Pushkar and arrange a tractor-load of fodder for cows. The Khap panchayat also threatened the victim's immediate family with social boycott if they reported the matter to police.
According to Hindustan Times, Radheshyam Regar, another relative told that no clear reason behind her death was given to them by the accused at that time.
[ads2]
"Both the girls who are accused in the incident were fined Rs. 2500 each and also asked to give a tractor full of fodder for cow, 5 tankers of water and one sack vegetable," the 15-year-old son of Devi, Rahul (name changed) .
Rahul was witness to the entire act of his mother being assaulted by two of his cousins ,but couldn't do anything after being threatened by Khap Panchayat. "The Khap Panchayat decided that no police action will be taken in the matter after the fine was paid, " said Rahul.
Around 11 pm on August 2, the trio assaulted Kanya when she was sleeping with her 15-year-old son at their home.
She was badly tortured. The accused have admitted to forcing her to eat faeces, lashing and burning her. Five of the six accused, booked for murder and under relevant sections of the Rajasthan Prevention of Witch Hunting Act, have been arrested," said Ajmer Superintendent of Police Rajendra Singh.
"I was called on the morning of August 3 and after reaching Devi's home, I found that she was grievously injured. Upon enquiring, the family of her husband's elder brother told me she fell on the oven while preparing tea," said Uttam Kumar Mirdha, a local compounder said to Hindustan Times.
The accused included Kanya's neice Pinky, nephew Mahaveer and neighbour Sonia. "They claimed that they were asked by one Bhairon Baba to beat Kanya as she was a witch," said Tara Ahluwalia, an activist in Bhilwara working with women branded as witches. "But the real reason was property. Kanya's husband recently passed away and since her son is a minor, her husband's relatives conspired to get rid of her and grab her eight bigha land."
[ads2]
The matter came to light when Mahadev Regar, a relative and local activist, went for her funeral. When he learnt of the incident, Mahadev reported to the police on August 8 but the Kekri police station reportedly refused to register the FIR, asking for evidence.
"On August 8, Mahadev lodged a complaint but we were waiting for a complaint by a close relative. After her 23-year-old daughter Maya Devi submitted a complaint, we lodged an FIR on Sunday," said Kekri police station SHO Hari Ram Kumawat. A police team visited the site of alleged assault on Sunday, he said.
An FIR was lodged under Indian Penal Code Sections 302 (murder) and 201 (causing disappearance of evidence of offence) as well as sections 3 (prohibition of witch-hunting), 4 (punishment for witch-hunting) and 7 (punishment for unnatural death of a woman subjected to witch-hunting) of The Rajasthan Prevention of Witch-Hunting Act, 2015.
With PTI inputs
[ads1]