Nearly 90000 Rohingya have fled to Bangladesh since violence erupted in Mynamar in August leading to an humanitarian crisis and international anger. Human Rights Watch criticised Burmese Army for human rights abuse, rapes and extra judicial murders of Rohingya Muslims in Rakhine State.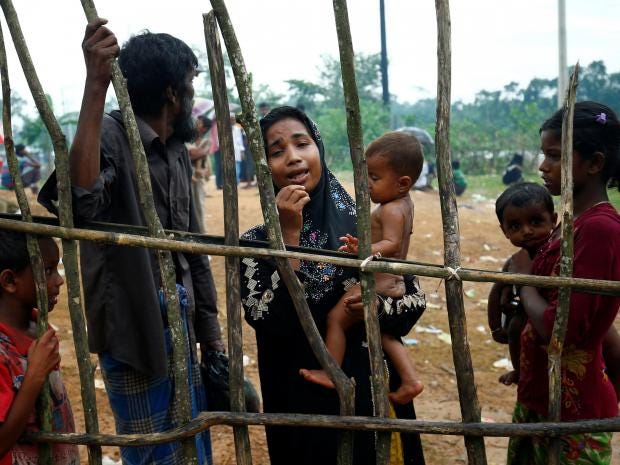 Myanmar: The latest violence in Myanmar's Rakhine state began on Aug 25 after Burmese Army launched offensive against Rakhine insurgents  resulting in the death of atleast 400 Rohingya Muslims and triggered mass exodus of villagers to Bangladesh. The number of refugees crossing the border into Bangladesh is the highest and Human Rights monitors claim serious human rights abuses by Burmese Army.
[ads2]
The new arrivals have strained aid agencies already helping hundreds of thousands of refugees from previous spasms of violence in Myanmar which UN claims 'Ethnic Cleansing' of Myanmar minority group Rohingya Muslims. There is severe shortage of food and medications, hundreds of refugees milled beside the road while others slung tarpaulins over bamboo frames to make shelters against monsoon and fearing persecution from Burmese Army.
Among the new arrivals of displaced Rohingya Minorities, around 16,000 are school age children and more than 5,000 are under the age of five. Apart from Rohingya Muslims, more than 11,700 non Muslim ethnic residents have also been displaced which mostly includes Hindus.
Human right critics and leaders of Muslim countries have strongly condemned the inaction and silence of Nobel Peace Prize laurate Aung San Suu Kyi. Malala Yousafzai, the youngest winner of the Noble Peace Prize, called on Suu Kyi to condemn the treatment of Rohingya and reminded her that 'the world is waiting 'for her to speak out . More than a dozen fellow Nobel laureates have criticised Suu Kyi for not taking any initiative to end the violence and ensure equal citizenship rights of the Rohingyas.
The Rohingya, who are denied citizenship by Myanmar, are considered some of the most persecuted people in the world. The predominantly Buddhist country says they are Bangladeshi and Bangladesh says they're Burmese.
My statement on the #Rohingya crisis in Myanmar: pic.twitter.com/1Pj5U3VdDK

— Malala (@Malala) September 3, 2017
The letter stated that international experts have warned of the potential for genocide and if action is not taken people may starve to death if they are not killed by bullets.
[ads2]
Turkish President Tayyip Erdogan ,called Bangladesh President Abdul Hamid to offer help in sheltering the Rohingya . Indonesian Foreign Minister met Suu Kyi and urged them to halt the violence. They also discussed humanitarian aid for the refugees. Human Rights Watch Executive Director Kenneth Roth slammed Suu Kyi after she refused UN to access ground reports in the conflict zone where serious human rights violations is believed to be committed by Burmese Army against Rohingya Muslims.
The line of Rohingya Muslims fleeing Myanmar is miles long. The violent cruelty of Burmese forces there is unfathomable. Via @MatthewFSmith pic.twitter.com/FILXkd1WVE

— Kenneth Roth (@KenRoth) September 4, 2017
Anti Myanmar protest were reported from Jakarta and Malaysia. There is anger and criticism across the world at Burmese Army's violence against Rohingya Muslims while the Myanmar's government deny discrimination and claim to be fighting a legitimate campaign against 'terrorists'.
Indian Prime Minister Narendra Modi in Myanmar
Prime Minister Narendra Modi on Tuesday reached Nay Pyi Taw for his first bilateral visit to Myanmar after concluding the annual BRICS summit in China. PM Modi will be in Myanmar for two days aiming to chart out a roadmap for closer cooperation between the two countries in areas like security and counter-terrorism.
Rights groups including Human Rights Watch and Amnesty International have called on Modi Government to reconsider its plan on deporting 40,000 Rohingya Muslims living in India, saying it should abide by its international obligations. A petition has also filed against deportation in Supreme Court which will be heard on Thursday.
[ads1]