In the ongoing war of words between Karnataka CM Siddaramaiah and UP CM Yogi Adityanath, who was recently in Bengaluru for a BJP political rally, the Karnataka CM has hit back at the priest-turned-politician who asked him to prove his Hindu credentials.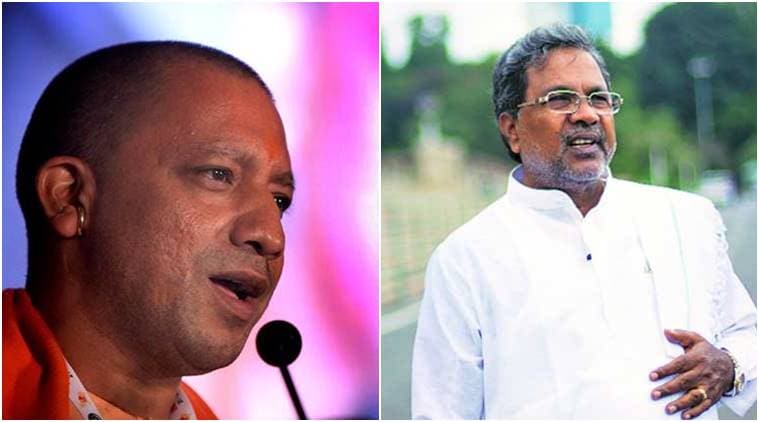 "A lot of Hindus eat beef. If I want to eat, I will, who are they to tell me not to consume beef. I don't eat beef only because I don't like to. He should read what Swami Vivekananda said about cow slaughter before preaching us," Siddaramaiah said.
[ads2]
Siddaramaiah also questioned Yogi's own credentials in tending to the cow before attacking him, and tweeted "Has Yogi Adityanath, who is preaching us about conservation of cows, ever grazed cows? I have reared cows, grazed them and cleaned dung. He does not have any moral authority to speak on the issue."
Yogi Adityanath was in Bengaluru campaigning for the BJP ahead of the state assembly elections in Karnataka and participated in the Parivartana Yatra which started on November 2.Yogi said Siddaramaiah has only now remembered his Hindu roots because of the approaching election. "Siddaramaiah calls himself a Hindu just as Congress president Rahul Gandhi went to temple after temple during the Gujarat election," he claimed. "He cannot be a Hindu and promote consumption of beef. When the BJP was in power here, we enacted a law prohibiting cow slaughter. The Congress government repealed that law," he said to loud cheers from BJP supporters. Siddaramiah hitback his Uttar Pradesh counterpart Yogi Adityanath on Tuesday, asking him to read what Swami Vivekananda has to say on cow slaughter before questioning his credentials as a Hindu for "promoting beef".
[ads2]
In May last year, the Centre issued a notification — 'Prevention of Cruelty to Animals (Regulation of Livestock Markets)Rules-2017' — banning the sale of cattle in animal markets for slaughter. It said notified rules will remove the scope for illegal sale and smuggling of cattle, a major concern for the government.Siddaramaiah insisted the Centre's notification was not binding on him since this would be a state subject. "It is not binding on the state to implement the Centre's curbs on the sale of cattle for slaughter as it is a state subject."He further wrote a letter to Narendra Modi calling the move "unconstitutional". "The rules prescribe certain restrictions on the cattle trade. I would like to bring to your kind attention that these rules are unconstitutional and will have a far-reaching negative impact on the Indian society and economy," he said.
[ads1]