New Delhi: A flabbergasted statement made by BJP leader and former minister Arun Shourie on Friday that "he made a mistake by supporting Narendra Modi", Thereby he also added that "I made two mistakes — by supporting (former prime minister) V.P. Singh and then by supporting Modi," Shourie said, addressing the sixth khushwant singh Literary Festival at Kasauli.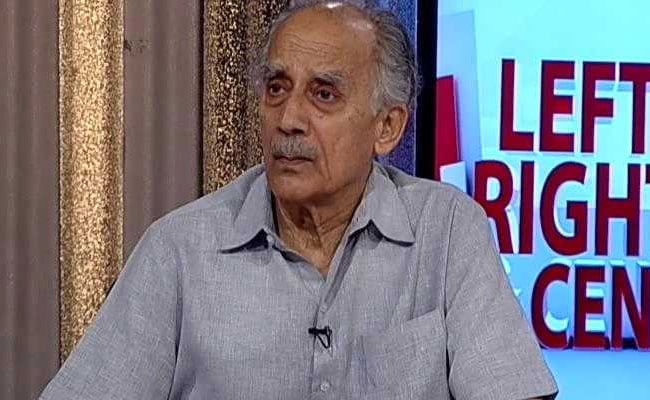 Arun shourie enunciated that "How to recognise rulers for what they are".  "Don't go by what these fellows say now. Go by what they have been saying in the past." Adding to this, he said "not to go by words but by the work they do and by what they have condoned in other people and also leaders should be judged by examining 'in great detail".
[ads2]
Referring to Modi's claims of Gujarat development when he was Chief Minister of the state, Shourie said "I think this is one of our great failures, of our newspapers, of people like me who did not examine the claims about the Gujarat model."
Adding to it, now we can say gujarat model is just an event management programme.
"For example, everybody is surprised about these Gujarat Vibrant Summits. Rs 10 lakh crore have been promised, Rs 15 lakh crore investment promised. From all the nine summits which took 3 years, proclaimed as great successes can anybody guess what proportion resulted in actual investment it was just six per cent! But it was a great business success."
The government said that between January and April this year 1.5 million jobs have been lost he also emphasized on saying that "they have promised to bring 2 crore jobs per year but four days ago, there were full page ads that they have created five and half crore jobs, so many jobs are created but we can't see it."
[ads2]
He said, "the main thing to watch in a leader is their character and their adherence to truth because if that is not there then nothing is there. Never believe that certain things being said by people close to a person are not being said by the person. Such leaders are ventriloquists," said Shourie.
"Just believe I am talking about (US President) Donald Trump. Any resemblance closer home is your imagination."
With PTI inputs
[ads1]