Tamil Nadu: Hadiya expressed disappointment over not having the freedom to meet her husband, Shafin Jahan. 'I am demanding basic rights that every Indian citizen has. It has nothing to do with politics or caste,' says Hadiya
"I wanted freedom from court, but I am not free to meet my husband," said Hadiya on Wednesday, a day after she rejoined a medical college in Salem district of Tamil Nadu on the directions of the Supreme Court.
[ads2]
"I asked for freedom from court. I wanted to meet my husband but the fact is that I'm not free till now and that's the truth," Hadiya told media at Salem."This is going to be another prison" as she is not free to meet her husband Shafin Jahan. She told the Apex Court that she wanted her husband to be her guardian if she was sent to her college to complete her education.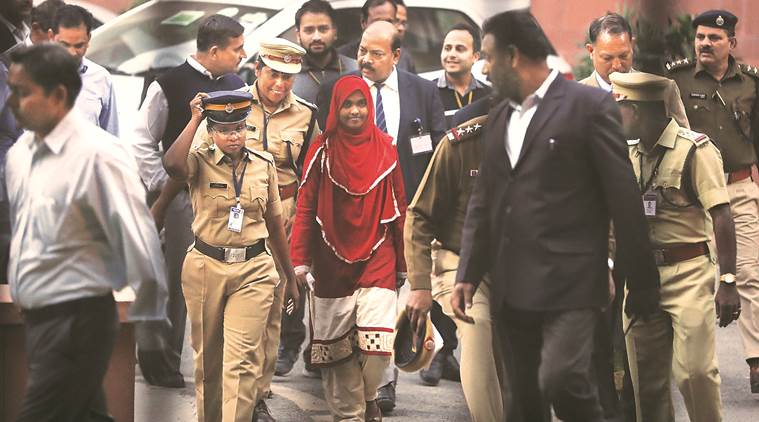 The Supreme Court directed that Hadiya be taken to college for her studies and that the college extends the facility of the hostel to her. Although the Supreme Court had not issued any orders on her meeting with Jahan, college principal had on Tuesday said Hadiya would be allowed "to meet anyone, including her husband, with my permission". Principal of the Sivaraj Homeopathy Medical College, G Kannan, on Tuesday said Hadiya will be treated as one of the inmates of the hostel and that no special treatment will be accorded to her.
"See, I do not know who her husband is. She is still Akhila for us, and her guardians are her parents who admitted her. In the present scenario, I will not allow anyone except her parents. We will make sure that I or an official are present when her parents visit her," Kannan said.
"Hadiya will be registered under her Hindu name Akhila Ashokan in the college," the principal added
Her parents have refused to accept her marriage to Shafin Jahan, who returned from Oman recently, and they allege that their daughter is being indoctrinated and will be taken to Syria.
Hadiya told reporters that she has no phone and hadn't contacted anyone. "For six months I was put up with people I hate. They only tried to convert me. My own parents said I'm mentally unstable," she alleged.
Sources : Indian Express
[ads1]