Uttar Pradesh: The Yogi Adityanath government has proposed to build a grand 100-metre statue of Lord Ram on the Saryu river along the temple town of Ayodhya as part of its reported plan to showcase 'Navya (or New) Ayodhya'.
The aim is to promote religious tourism and the proposal made by State Tourism department has been submitted to Governor Ram Naik. State officials have told that the statue is proposed at the height of 100metres but are awaiting approval from National Green Tribunal.
[ads2]
According to reports by Indian Express, a grand Diwali celebration in Ayodhya to be attended by Naik, Adityanath, Union Tourism Minister KJ Alphons and Culture Minister Mahesh Sharma is also planned on October 18 . "On Diwali, a grand programme will be held in Ayodhya in which sadhu-saints will also participate. I will also invite the governor for this," Adityanath has said recently in Gorakhpur.
Adityanath has visited Ayodhya at least twice after assuming office and launched several projects worth crores of rupees for the city.
A series of programmes have been scheduled including "deepotsav" which will be organised on 'Ram Ki Paidi' where 1.71 lakh earthen lamps will be lit.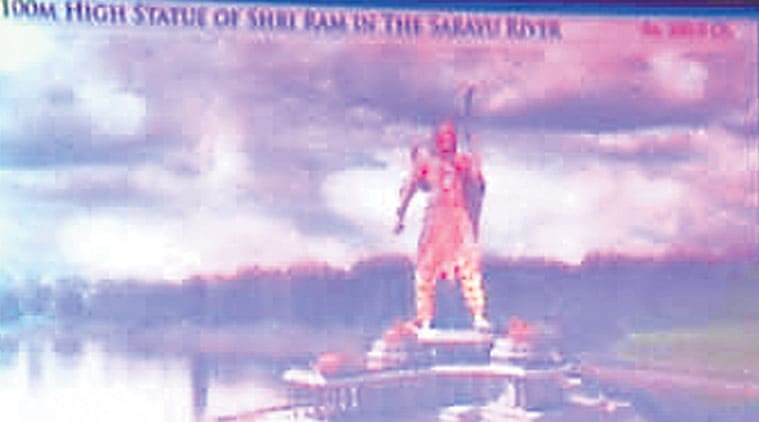 Prominent building and ghats will also be illuminated to attract tourists. A heritage walk, a yatra reminiscing return of Lord Rama to Ayodhya and a grand "aarti" of River Saryu will also be performed by the chief minister and the governor and a laser show will be held on the banks of the river. Ramlila will be performed by artist from Indonesia and Thailand .
Yogi government had special mentions of
Ayodhya, Varanasi and Mathura, earmarking Rs 1,240 crore for the Ramayan, Buddhist and Krishna circuits in these cities during the budget session .
The state government has also re-started popular Ram Leela in Ayodhya at the Ayodhya Research Centre, after a hiatus of 17 months.
[ads2]
Ram Temple issue is very critical and was used by BJP during the election campaign resulting in a mojority BJP government in UP. Senior leaders of the party have repeatedly reiterated their promise to rebuild Ram Temple in Ayodhya and promote the city as a hub of religious tourism.
The Ram statue on Sarayu river is seen as the first step towards this plan. Interestingly the state government has deleted the name of iconic Taj Mahal built by Mughals one of the seven wonders of the world. This act has invited strong criticism from both National and international media. It has been seen as an attempt to erase Mughal contribution and rewrite history.
With PTI inputs
[ads1]