On January 26th Violence which took place in Kasganj led to injuries and death and the Uttar Pradesh police are scanning a video that has recently viralled and its contents show Hindu youths are marching towards a Muslim populated area on that day with guns.
Ita been said that the video that was taken from the office of local tehsil building shows that the group fired several rounds and it also depicted that people also were carrying sticks in their hand.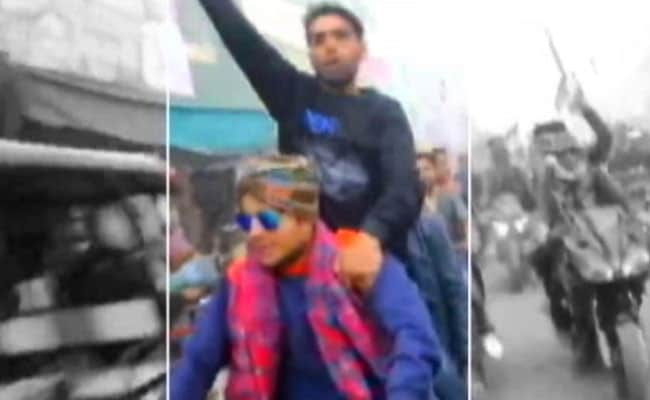 A source told to TOI that, "There were over 50 youths and one of them had the Indian flag. At least two had revolvers and others were carrying clubs, sticks, while the rest were hurling stones towards the Muslim-populated area. Several shots were fired in the air by youths who were in the 'tiranga yatra'. A special investigation team is now looking into the 14-second clip to identify the men seen in it."
A senior IPS officer, not revealing his name, said, "This was the very point where Chandan Gupta, 21, was shot dead." The police have arrested  6 people and charged them with Chandan Gupta's murder. The FIR stated that "When police intervened to pacify them, they didn't listen. Meanwhile, bullet shots were heard from the alleyway, after which the (yatra) group started pelting stones on people from the other community and both groups exchanged fire and even targeted policemen,"
another video shot in Hulka Mohalla showed youths in the tiranga yatra waving saffron and Indian flags and shouting slogans that many in the Muslim locality felt were "incendiary".
Meanwhile, in an FIR filed by Chandan Gupta's father Sushil, he said his son was killed while participating in the tiranga yatra along with his younger brother Vivek. He has said Waseem, along with Nasim and Kasim shot his son. Some 20 others have been named too.