In an unexpected move the BJP government of Yogi Adityanath in Uttar Pradesh has initiated the process on the withdrawal of 131 cases linked to the 2013 communal riots in Muzaffarnagar and Shamli, including 13 of murder and 11 of attempt to murder.
The decision to start the process on the withdrawal was taken after a delegation of khap leaders from Muzaffarnagar and Shamli, including BJP MP Sanjiv Balyan and the party's Budhana MLA Umesh Malik, met Chief Minister Adityanath.
Documents seen by The Indian Express revealed that the Uttar Pradesh government withdrew cases that included charges against IPC sections related to "heinous" crimes for which an accused, if found guilty can be sentenced to up to seven years in jail. Balyan said that during the meeting with the Chief Minister in February, he urged him to consider the withdrawal of 179 cases in which over 850 Hindus were held accused.
All these cases were registered in Muzaffarnagar and Shamli districts. He said that the delegation had been preparing the list for a while and claimed that the cases include those of arson, attempt to murder and damage of properties but not murder, IE reported.It is alleged that Rana and Singh along with BJP MLA Sangit Som and a man identified as Chandra Pal participated in a mahapanchayat and incited violence through their speeches in the last week of August 2013.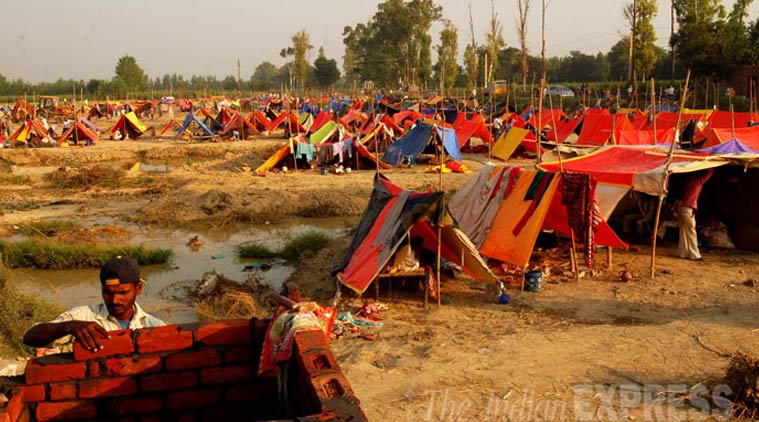 The communal clashes in Muzaffarnagar and adjoining areas in August and September 2013 had claimed more than 60 lives while over 40,000 people were displaced.Total of 503 cases were registered against around 1,455 persons (according to some the number is above 2,000) at police stations in Muzaffarnagar and Shamli by the then Akhilesh Yadav-led Samajwadi Party government in Uttar Pradesh. The cases were filed against both Hindus and Muslims.
The decision has generated strong reactions from opposition parties ,Opposition parties have termed it an attempt to offer 'amnesty' to rioters.
Congress leader Kapil Sibal to Twitter to vent out his frustration over the move, saying that the decision gives the message that the "state will protect murderers and not victims of violence".while the BJP has maintained it is withdrawing only the false cases linked to the September 2013 riots.